Disability Pride is the idea that people with disabilities should be proud of their disabled identity. People with disabilities are the largest and most diverse minority within the population, representing all abilities, ages, races, ethnicities, religions, and socio-economic backgrounds. (www.ncl.org)
The Americans with Disabilities Act (ADA) became law in 1990. The ADA is a civil rights law that prohibits discrimination against individuals with disabilities in all areas of public life including:
jobs 

schools

transportation

all public and private places that are open to the general public.
Today, 1 in 4 Americans with disabilities are able to participate in their communities and workplaces thanks to the ADA. www.adata.org
One of my favorite times of the year was going to Washington DC every July to attend the National Council on Independent Living Conference. It was to celebrate the ADA and participate in advocacy. It was a powerful experience to participate in the legislative process that affects the lives of people with disabilities. We met with our designated representative to explain the importance of continuity of support needed to protect the access rights of people with disabilities.
The photo is from 2015 when we gathered in front of the capitol, in the shade, to eat. It was always a long day yet fulfilling to feel like we had a voice and could be part of the process.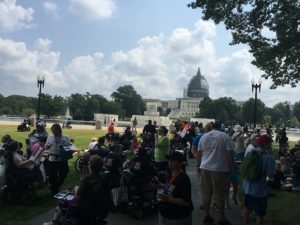 Knowledge is empowering, here are a few resources to learn more about current legislation important to people with disabilities and how to get involved:
SafeinHome supports the rights of people with disabilities to live the life they choose, to have privacy, and be able to practice decision-making and live a self-determined life.
Remote Supports provides a supportive and empowering environment without authoritative oversight. See how the following people live the way they choose using SafeinHome's Remote Supports.
Emma – Watch Now

Chris – Watch Now

Brandon – Watch Now